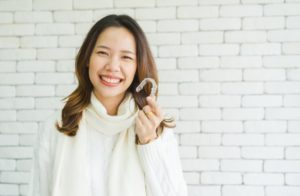 It's estimated that over 14 million people have straightened their smiles with Invisalign treatment! This advanced orthodontic allows you to be free from the pitfalls of metal braces by wearing clear, removable aligners. As Invisalign has grown in popularity, many people have grown more curious about possibly using it to align their pearly whites. Here are the answers to four common questions that you may have as you seek orthodontic treatment for a brand-new smile!
#1. Does Invisalign Hurt?
As with most dental treatments, it will take a period of time to grow adjusted. While Invisalign is not painful, your teeth and gums may be sore for a while as they grow accustomed to your aligners. Your aligners will fit snugly in order to move your pearly whites gently and gradually into the desired position so your mouth will have to get used to the slight pressure. The good news is that the small amount of discomfort should only last a week or so! When you switch to your new aligners every couple of weeks, you may experience a bit of soreness again, but it will be completely manageable.
#2. How Long Do I Have to Wear Invisalign Every Day?
It is usually recommended to wear your aligners for at least 20 to 22 hours every day. This essentially means you are only taking them out to eat or drink anything other than water. By being consistent with the time frame, you will ensure your teeth are moving into the correct position and you are staying on track with your Invisalign treatment plan.
#3. What's the Best Way to Take My Aligners Out?
When you first begin treatment, you may have trouble removing your aligner. The easiest way to get it off your teeth is by starting in the back of your mouth. Grab a back edge on one side and then pop it off…the rest of the aligner should come off smoothly. If you happen to have trouble with just using your fingers, there is a special pick available to gently remove your aligner. In general, it's tougher to remove your trays in the first couple of days of your treatment; once your teeth are beginning to move, it will be easier to loosen your aligner.
#4. What Should I Do if I Lose an Aligner?
Since you will take out your aligners during meals, there is a chance you can accidentally misplace them. If you do, you should call your dentist and ask what they recommend doing. They will offer a few suggestions: first, if you only have a couple more days of wearing your current aligner, they may tell you to just switch to your next set. However, if you just moved to your next series of aligners, your dentist may need to give you a replacement one. The most important thing to remember is to contact your dental team right away. You want to keep your Invisalign treatment on track so you can achieve your newly aligned smile on time!
About the Author
Dr. Ray Bollin and his team at Sunset Avenue Dental keep the smiles of Springdale healthy and beautiful. He earned his Doctor of Dental Surgery degree from the University of Missouri-Kansas City and is regularly named one of America's Top Dentists by his peers in the fields of cosmetic and general dentistry. As a certified Invisalign provider since 2005, he can help you achieve your dream smile with clear orthodontics and assist you with any concerns along the way. To schedule a consultation, contact him through his website or call (479) 419-9991.